---
staff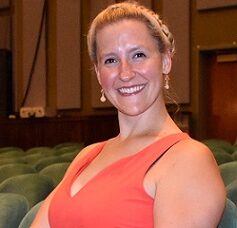 Tracy Snyder is the Executive Director of TOY.
Tracy (she/her) is a Buffalo native and a graduate of both SUNY at Buffalo (B.A. in Theatre Performance) and Niagara University (M.A. in Interdisciplinary Studies with concentrations in business and theatre). Snyder also completed an acting residency at Shakespeare's Globe Theatre in London, UK. Prior to joining TOY in 2019, she was the Education Director and Office Manager for Shakespeare in Delaware Park. She has worked with many Buffalo theatre companies as an actor, stage manager, playwright, director, wardrobe mistress and teaching artist. Her play, Apple of My Eye, was selected to be a part of the Road Less Traveled Production's Emanuel Fried New Play Workshop. She recently made her film directorial debut with "This is Not A Pipedream" (Leaves Are Falling Fast Productions).
---
Kayla McSorley is the Executive Assistant at TOY.
Kayla (she/her) is a French-Canadian Performer, Educator and Arts Administrator from Ottawa, ON. She is a graduate of Niagara University, NY, where she received a BFA in Theatre Performance and a BA in French. Since acquiring her degree, she has worked internationally accumulating a versatile skill set that will be a valuable asset to TOY.
A skilled performer, some of Kayla's favorite acting credits include SIX The Musical (Boleyn/Cleves/Parr), Chicago (Velma Kelly), The Last Five Years (Cathy), Comedy of Errors (Luciana/Duke) and Julius Caesar (Brutus). Having been a teaching artist, coach and choreographer for many years, her passion for working with the youth has also led to on and off stage credits with Missoula Children's Theatre, Artishow Québec, The Travelling Stage, Carousel Players, Little Red Theatre and Canada's Wonderland.
As a respected and kind professional in the field, the aforementioned experience went hand in hand with taking on administrative leadership positions such as General Manager/Art Coordinator (Pirate Life Children's Theatre), Program Coordinator/Instructor (International Musicals Taiwan), Coordinator of Volunteers (Ottawa Fringe Festival) and Site Manager/Art Specialist (Just For Kids Buffalo).
Kayla is incredibly excited to collaborate with TOY and can't wait to assist in providing memorable artistic experiences to the upcoming generations of the Buffalo Theatre Community!
www.kaylamcsorley.com, @mcsokayl
---
Board Of Directors
The Board of Directors at Theatre of Youth is committed to the mission of TOY. The Board is a volunteer governing body comprised of community leaders with diverse backgrounds from throughout the Buffalo/Niagara Region. Each member donates their time, talent and treasure to the organization, guaranteeing its growth and prosperity for future generations of young people.
Executive Committee
Paul Tyno
President
Tyno Energy Advisory Services (TEAS)
Daria Shanchuk, CPA, MBA
Treasurer
Berenson Hardware
Stacey L. Moar, Esq.
Vice President
M&T Bank
Annie Deck-Miller
Secretary
Roswell Park Comprehensive Cancer Center
Members
Carly Cazer
Kathryn Holmberg
Elmwood Franklin School
Mary Czopp
Child and Family Services
Meg Devine Maxwell
Melanie Goehle
Independent Health Foundation
Todd Proffitt
State University of New York at Fredonia