Family Activities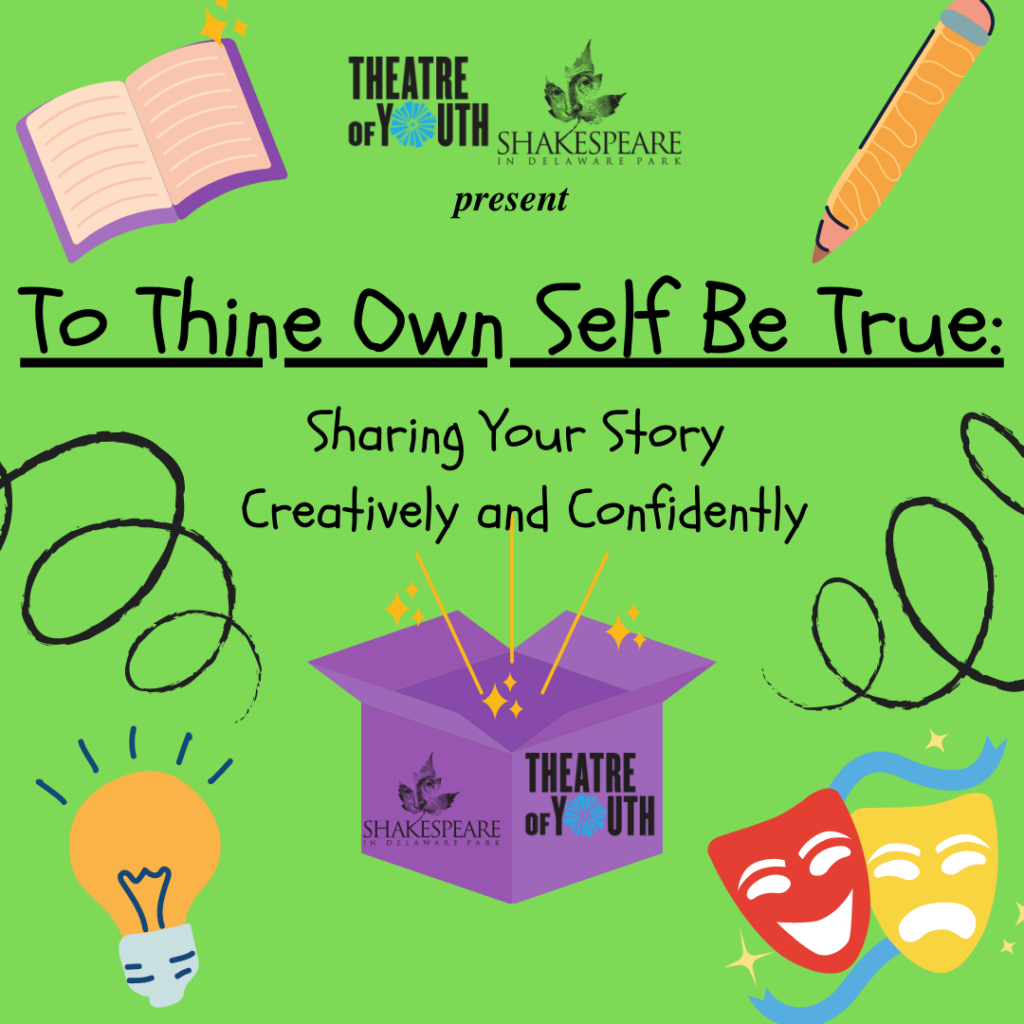 Celebrate Creativity!
Unleash your imagination on May 30th for National Creativity Day! Whether you are an artist, writer, musician, filmmaker, blogger, photographer, graphic artist, or any of 100 other creative personalities, the world is going to celebrate you and your creative pursuit.
Theatre of Youth (TOY) and Shakespeare in Delaware Park (SDP) have collaborated to bring you an interview series TO THINE OWN SELF BE TRUE – Sharing Your Story Creatively and Confidently. Videos can be found on our Facebook and Instagram pages. Taking from one of William Shakespeare's greatest lines of advice and using the lens of creative play, creative writing, and creative exploration, these interviews dive into a multitude of professions with key ingredients to help children AND adults use their imagination to live a creative life.
Together,  we have created a CREATIVITY WORKBOOK filled with creative facts and activities. We challenge YOU to be CREATIVE everyday!
---
Make Your Own Spark!
Theatre of Youth's NEW logo embodies the TOY experience, which sparks joy and wonder in children and adults alike. In celebration of the new logo, we invite you to use your own creativity and imagination to create your own spark or collage.
Every Theatre of Youth experience is a possibility. Each child, parent, teacher, and guest experiences the programming and offerings uniquely. They catch their own reflections. New concepts emerge. Understanding is inspired. Joy and wonder are sparked. This logo mark has evolved into a symbol of precisely that. First, it's an O, completing the YOU in YOUTH. But after that, it's open for interpretation. It's the fireworks that goes off when curiosity is piqued. It's the kaleidoscope of a young person's imagination. This mark has the to reflect the circumstances that surround us. Ultimately, it becomes whatever you see in it.
You can download the activity here. This is a free activity but please consider a donation in any denomination. As we continue to navigate these challenging times during the pandemic, we appreciate any support.
In addition, feel free to show us and describe your completed activity in a photo on social media and tag #theatreofyouth. Thank you!
Spark of Wonder Fund
Everything we do at TOY is about the children in your life. It's about their wonders and worries. Although we cannot predict what will happen as this pandemic continues to unfold, we are creating new virtual workshops, activities and programming for you and your family to share. We are working hard to bring you high-quality programming, while preparing to welcome you back to the Allendale as soon as it is safe to do so.
Your support ensures children continue to have these enriching experiences.